End of the Year Extravaganza
In case you didn't notice, 2007 is over and it is officially 2008 everywhere in the world, which means it's time for the Notes Are Shattered End of the Year Extravaganza. In this post, you'll find my top 10 EPs and my top 5 comedy albums. Tomorrow, I'll post my top 30 albums of the year and a couple albums I was disappointed with. Coming soon, too, will be a mixtape of my favorite songs off each of these albums, so you can get a taste of all the bands in case you don't want to download everything. To anyone involved in the music industry that finds this, I would just like to say that these are for evaluation purposes only, and should you be somehow attached to any of these albums and want one taken down, e-mail me and let me know. I'll take it down immediately, and won't re-upload it. And now, without further ado, let's get this thing going.
Top 5 Comedy Albums of 2007
5: Various Artists
Comedy Death Ray
Disc 1
Disc 2
Similar to 2005's "Invite Them Up" compilation, this two-disc set compiles material from 18 comedians who performed at Los Angeles' live comedy show "Comedy Death Ray". It features a number of alternative/experimental comedians, including Paul F. Tompkins, David Cross, Doug Benson, Maria Bamford, Hard 'n Phirm, Patton Oswalt, Jimmy Pardo, Neil Hamburger, Ian Edwards, Brian Posehn, Nick Thune, Scott Aukerman, Chris Hardwick, Mindy Kaling, Dan Mintz, Andy Daly, and cast members from Reno 911. It might be a little uneven, but it has a nice mix of different comedic styles, and a few brilliant bits.
The upload for this failed, so I'll get it up tomorrow with my top 30 albums of the year.
4: Steven Wright
I Still Have a Pony
It's been 22 years since Steven Wright's first album "I Have a Pony" came out. In that time, he's put out a couple DVDs and acted in some movies, and apparently worked on his act quite a bit. He still has the same basic style (one-liners, puns, observational jokes, all wrapped in his surrealist brand of humor), but for whatever reason I found this album even funnier than his first. "The Store" is one of the best pieces of surrealist comedy I've ever heard.
3: Doug Stanhope
No Refunds (DVD Rip)
Doug Stanhope's new DVD finds him focusing more on telling generally dirty jokes and less on the political/observational humor he used to be known for. Not that he's completely removed that from his act, but it certainly isn't the main focus anymore, which is understandable. After fifteen years of comedy, Stanhope is ready to just "write dick jokes again", as he says on this recording (maybe... honestly, I forget if it's on this particular routine or one of the many bootlegs I've downloaded). Make no mistake though, he's as funny as he's ever been.
2: Louis C.K.
Shameless (DVD Rip)
Louis C.K. is definitely at the top of his game on this DVD. He's one of the most realistic and relatable comedians working today, because he focuses on observational humor that I think most mainstream comedians would stray from. He talks about how much he hates his family, friends, and just about everyone he meets. But beneath all the hatred, he comes off as someone who genuinely cares about those close to him. Oh, and he tells a lot of dick jokes.
1: Patton Oswalt
Werewolves & Lollipops
Like I haven't talked about how much I love Patton Oswalt already. If you don't have this, just get it.
Top 10 EPs of 2007
10: Louis XIV
The Distances from Everyone to You
Great new EP from these Californian garage rockers. If you need something loud, fun, and overly sexual, this is for you. The ballad-esque title track is a nice change of pace, and the cover of the Flash Gordon theme is great.
9: Annuals
Frelen Mas: Be He Me B-Sides EP
Eight new tracks from the Be He Me sessions. If you liked the at times hazy, at times anthemic indie pop/rock of their full-length from last year, you'll like this.
8: Deerhunter
Fluorescent Grey EP
Surprisingly, my favorite parts of the Deerhunter full-length from this year weren't the psychedelic ambient parts that comprised most of the album, but the more upbeat rock sections. This EP focuses more on the latter style, and leaves out much of the ambient stuff. I know most people will probably disagree with me, but I like this EP a lot more than Cryptograms.
7: Intronaut
The Challenger
Three new songs, five live songs, and one remix from this jazzy, sludgy, post-metalcore quartet. I could actually do without the vocals, as I've always found them a bit out of place, but whatever. Musically, the band is top notch and more than makes up for the vocals. The live stuff has pretty good sound quality, and shows a more raw, unpolished side of the band.
6: Boris with Merzbow
Walrus/Groon
Okay, this is a single and not an EP, but it definitely deserves to be here. As shown on multiple occasions both in the past (Megatone, 04092001, Sun Baked Snow Cave) and this year (Rock Dream) Boris' doomy stoner rock and Merzbow's noise manipulation work great together. The A-side is probably more Boris than Merzbow, and features a cover of the Beatles' "I Am the Walrus", which they turn into a hazy, psychedelic gem. The B-side is most likely more Merzbow, and features an instrumental which shares its name with a King Crimson song, but has nothing else in common. It's a noisy, sludgy, fuzzed-out beast of a track, and really shows what the four artists can accomplish together.
5: Data
Aerius Light
While most people were hyping the Justice album "†" from this year (and rightly so), it seems no one had heard of Data, which is rather disappointing as they sound a lot like Justice (and thus, Daft Punk) only better. Four tracks of hooky house music that you'll love to death.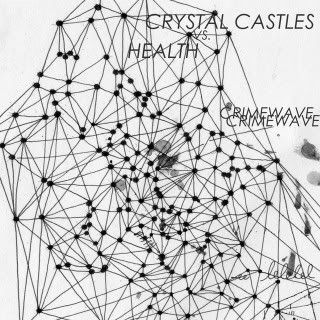 4: Crystal Castles
Crystal Castles EP
This is the artwork for their split 7" with HEALTH. As far as I can tell, this is their self-titled EP that won't come out till next year. Whatever. This is eight tracks of electro/chiptune music, and this, along with Data, Justice, and the new Daft Punk album have given me faith that non-IDM/Breakcore electronic isn't dead yet.
3: Atmosphere
Sad Clown Bad Fall #10
Being from the Minneapolis area and also being into the local music scene, I'm basically required to like these guys. However, I think I can truthfully say that "The Rooster" contained on this EP is my favorite thing Slug and Ant have ever put together, and the other four tracks are almost as good. A lot of people didn't like this one, preferring Sad Clown Bad Summer #9, but I definitely think this one is the best. If you like underground hip-hop, you need this.
2: Bright Eyes
Four Winds
Cassadaga was pretty bad, but thankfully Oberst decided to put this out too. Four Winds was easily the best track on Cassadaga, and backing it with more laid back material which features Ben Kweller and M. Ward on one track each makes for a great EP, and the best thing he's recorded apart from I'm Wide Awake It's Morning and it's accompanying single for Lua.
1: Giraffes? Giraffes!
More Skin With Milk-Mouth
Amazing instrumental mathy, progressive post-rock. Definitely more progressive than post-rock, though. This is great stuff. I can't describe how much I like this album in words, so you should just download it. Come on, just look at that artwork.
And that's all for today. Check back in about 24 hours for my top 30 albums of the year.